We are proud to be featured on the cover of the July 13-19, 2018 issue of The Hernando Sun!
May 2018: Spirit of Gravedigger arrived on May 14th! Spotted Dance Ranch is proud to be home to the only two existing tobiano Spotted Saddle Horse Gravedigger fillies (out of almost 200 foals, there has only been five fillies)!!
June 2017

: We are pleased to be featured in the first issue of Florida Country Magazine. The article is about the TS Mules Clinic that was held at our ranch in February 2017.
This clinic (as well as the clinic in March 2016) was so successful that we will be hosting it for the 4th time from February 14-16, 2019. Space is limited so sign up soon!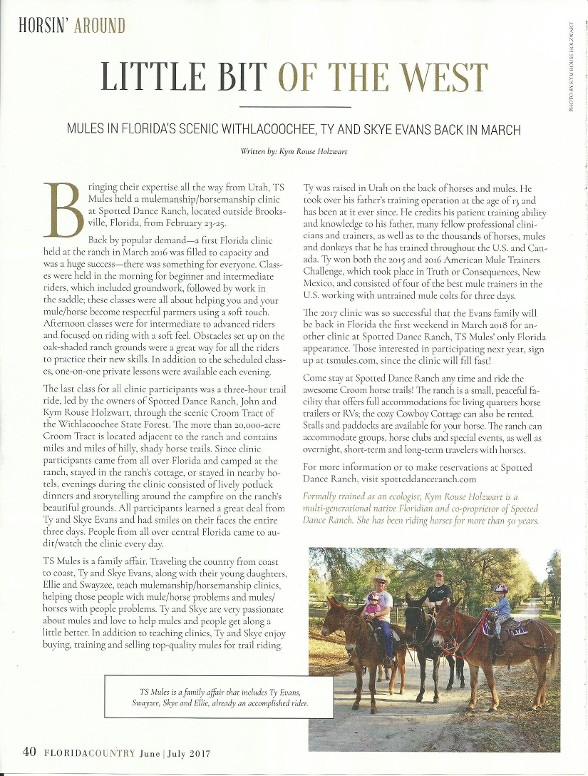 April 2017: Spicey Grave Dancer celebrated her first birthday on April 6th. She is growing up to be an awesome horse, and her training is going well!
April 2016: Our first Spotted Saddle Horse foal was born at the ranch on April 6th. Ginger Twist delivered a beautiful black and white filly named Spicey Grave Dancer. Baby Spice is sired by the world-famous, speed racker, Gravedigger. She has her momma's gorgeous looks and personality and is already racking up a storm.
December 2015: We were married at the ranch on November 21st, under an arch made of pink ribbons and horseshoes! Check out the story in the December issue of Horse & Pony News below.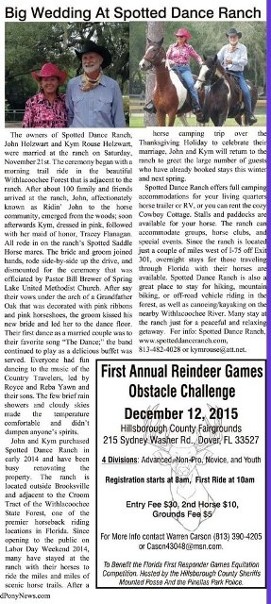 December 2015: We just got a new order of our wonderful t-shirts, made by No Limit Ts and Prints (www.nolimittsandprints.com). They typically sell like hotcakes, so get yours soon! Pick one up when you visit (or contact us and we can send you one)!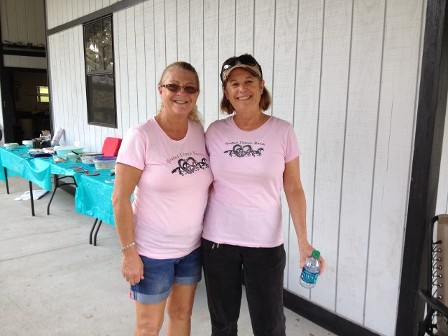 February 2015: We are featured in the "Hot on the Trail" section of the March 2015 issue of The Trail Rider magazine: